Wellness Dollars – Use 'em or Lose em'
Did you know that some insurance carriers pay companies to implement wellness programs? Before you consider paying for a wellness program using your company's benefits budget, learn the rules for cashing in your "wellness dollars" so you don't miss out on your carriers "best kept secret."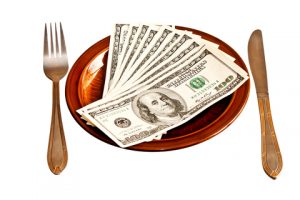 What are wellness dollars?
Wellness dollars are essentially funds that certain health insurance providers offer their clients to re-invest into their workplace wellness programs. These funds help to improve the benefits packages and may also help the employees to improve their physical and mental health. The reasoning behind this is that healthier employees is usually correlated with less claims that the insurance company might have to pay out. It's a win-win strategy – cost savings for the insurance carrier and an awesome perk for your employees!
These funds may not be offered by all carriers, but its worth finding out. Sometimes they may be called wellness incentives, wellness credits, health dollars, or fitness rewards.
Here's some tips to find out about your wellness dollars:
Contact Your Carrier
Reach out to your health insurance carrier rep and ask them if your company has any wellness dollars- they'll know exactly what you're referring to!
Questions to ask your health insurance carrier
What is my budget and when is the deadline to spend them?
What types of wellness programs can be covered?
How does the program get paid for?
Negotiate
If your carrier doesn't offer any wellness dollars, now is the time to negotiate for next year's contract. Look at your claims, if they are low, maybe request that you get some incentives to continue with the trend. If they're on the higher side, and you're anticipating an increase in your rates, ask for dollars to take a proactive measure and help your employees get healthier.
I have unused wellness dollars, now what?
Now that you know your options and your budget, it's time to determine the best use. At One Stop Wellness, we always recommend surveying your employees and leadership to gauge interest. Some programs offer a platform where employees can participate in challenges and earn rewards, some offer virtual classes, and some offer guided meditations. There are also vendors that offer all of this and more! Great wellness programs target multiple dimensions of well-being – physical, emotional, social etc. Look for a comprehensive program that includes these components, instead of going through the hassle of working with multiple vendors.
Keep in mind that wellness programs are not one-size-fits-all and if you are currently offering a program, and have unused dollars, it wouldn't hurt to explore additional wellness offerings that may complement or expand upon your current program. With the increase in remote work, it may be hard to communicate regularly with employees, so now is a great time to add virtual wellness classes and other programs that are highly engaging for a virtual staff.
Pre-Pay for your wellness program.
If you don't want to deal with implementing a program right away, you can pre-pay for your wellness program and plan out a launch for the beginning of next year.
Wellness dollars do expire, so don't leave money sitting on the table! Invest in your employees' health and happiness, it is so important, especially in times like these!